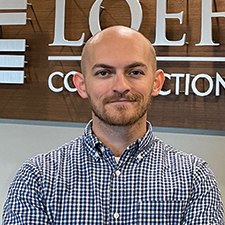 Loeffler is excited to welcome John Tupy to our construction team! Joining us as a project engineer, John brings a wealth of industry experience to the table. 
John's career in construction started here in Southern Minnesota within a family firm at a young age. From that early beginning, his career has moved from the smallest and simplest projects to working with some of the largest builders in the nation as both a Superintendent and in a Purchasing Role. With a wide range of experience in the industry John's goal is to bring a creative approach to industry standards creating an exceptional result. Being a member of the Loeffler team allows John to engage with a dynamic team and make best use of his skill set.
He received education at both Ave Maria University and the U of M from which he was on the Dean's List and received his degree in Applied Studies, respectively. When not at work John enjoys spending time with his growing family, cooking with his wife, and collecting hobbies.